Lincolnshire's caravan living 'hitting council tax'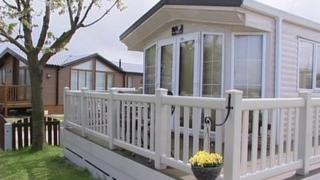 Lincolnshire could be missing out on thousands of pounds in council tax as people are choosing to live permanently in caravans, the county council said.
The authority has commissioned a study to look at the financial impact of the issue in coastal areas.
East Lindsey District Council, which covers Skegness, is also planning to visit every caravan site in its area.
Cath Rowson, who lives in a caravan in Skegness, said she and a lot of her neighbours do pay council tax.
County councillor Colin Davie said: "No-one's looked at the financial impact in terms of what we're losing out on in Lincolnshire.
"There is money coming from central government and we believe we don't get enough of that to cover the residents that live on the coast."
'Lack of legislation'
Councillor Craig Leyland, from East Lindsey District Council, said: "It's a double-edged sword. We have to remember that people living on the coast will bring money in to the local economy.
"The downside is... we have a strain on things like doctors."
He said the district council also wanted to get a clearer picture of how many people were living in caravans on the coast due to the risk of flooding in those areas.
However, Ms Rowson, who lives at the Beacon Park caravan site, said she paid full council tax at an A band and wanted the rate reduced.
She said: "They don't supply our lighting, they don't empty our bins, they don't repair our streets. We pay for that, so really we're paying twice.
"I think if they reassessed the caravans and brought in a smaller council tax band, they'd get more people paying that rate."
Dan Ellacott, from the National Association of Caravan Owners, said the issue of tax was confusing but advises people not to make a static holiday caravan their full-time home.
"Caravan parks contribute an awful lot to non-domestic rates. It is apportioned back through the regulation four notice, which recognises how many caravans are on the park.
"There is confusion and a lack of legislation," he said.