Death rates review: Call for Lincolnshire trust board's resignation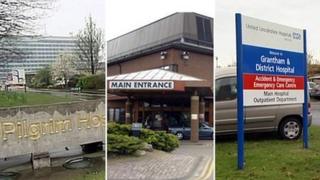 The entire board of a Lincolnshire NHS trust should resign in the wake of a critical report into high death rates, a Lincolnshire councillor says.
Christine Talbot of the county's health scrutiny committee said the board must "take responsibility" for problems at United Lincolnshire Hospitals trust.
The trust was placed in special measures after the review by NHS England medical director Bruce Keogh.
A trust spokesman said progress had been made in the past two years.
More nurses
The Keogh review found issues involving staff shortages, a lack of resources and communication problems at the trust, which runs Lincoln County, Boston Pilgrim and Grantham hospitals.
Eleven NHS trusts under investigation across England were placed on special measures as a result of the review.
Councillor Talbot said: "I think it is time for them (the board) to consider their position... somebody has to take responsibility for this… it has happened on their watch.
"Two new members have been recruited but some of the board have been there for some considerable amount of time."
The 12-member trust board has seven executive members and five non-executive members.
A statement from the board said its future was "a matter for the NHS Trust Development Authority", adding all the directors were focused on "addressing the issues raised in the Keogh review".
Jane Lewington, chief executive of the trust, said: "We have made improvements but we have to make further improvements and make them faster."
"The progress we have made over the past two years has been excellent - the report highlights more than 90 areas of good practice."
The trust is planning to spend an additional £7m to hire 200 new nurses in the next two years - with 80 to be hired "immediately".
Other plans by the trust include public listening events, a patient-focussed overhaul of the complaints system and a series of internal campaigns to promote staff awareness of best clinical practice.