Britain's drone policy to be examined by MPs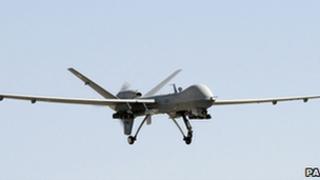 A new inquiry into Britain's policy on armed drone aircraft has been announced by the Commons Defence Committee.
MPs will examine the UK's deployment of armed drones and the legal and ethical issues surrounding their use.
It will form part of a wider inquiry leading up to the government's Strategic and Defence Security Review, due in 2015.
Drones are mainly used for surveillance but could use weapons if commanded to by their pilots in the UK.
They range from simple, hand-operated systems to small high-altitude, long endurance systems, similar in operation to small aircraft.
Drones - or unmanned aerial vehicles - are playing an increasingly important role in air warfare and air support.
They are used in situations where manned flight is considered too risky or difficult.
But their growing use is becoming increasingly controversial.
'Critical expansion'
According to the US General Accounting Office, the number of countries that have acquired drones has risen from about 41 in 2004, to 76 in 2012.
The UK only deploys drones in Afghanistan. The 10 Reaper aircraft support UK and coalition forces and can carry 500lb bombs and Hellfire missiles for strikes on insurgents.
Defence Secretary Philip Hammond has said the UK has no plans to continue their use once combat operations end in December 2014.
The aircraft are piloted remotely, but launched and landed with human help at Kandahar airbase. But in April, they were operated remotely from Britain for the first time.
Campaigners protested against the practice, claiming the switching of control of flights to the UK marks a "critical expansion in the nation's drones programme".
They want the government to abandon its use of drones, fearing they make it easier for politicians to launch military interventions, and increase the possibility of civilian casualties.
But the Ministry of Defence says they have saved the lives of countless military personnel and civilians in Afghanistan.
The Defence Committee will look at the lessons learned from operations in Afghanistan as well as the constraints on the use of drones in the UK and overseas.
MPs will also investigate the future potential for unmanned aerial vehicles, and what capabilities the UK will seek to develop between now and 2020.
The deadline for the submission of evidence to the committee is 13 September 2013. Oral evidence will begin after the new Parliament returns in October.
Earlier this year the UN launched an inquiry into the impact on civilians of drone strikes and other targeted killings, saying a proper legal framework was required to provide accountability.
The inquiry will assess the extent of civilian casualties, the identity of militants targeted and the legality of strikes where there is no UN recognition of a conflict.