New homes in Central Lincolnshire could reach 42,800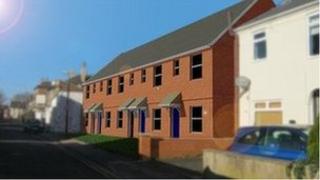 A document setting out where 42,800 homes could be built in Lincolnshire has been approved by councillors.
It includes plans to build 10,000 new homes for Gainsborough, 18,800 for Lincoln and 4,500 for Sleaford.
The Central Lincolnshire Core Strategy also covers the provision of services and infrastructure such as roads, open space and schools.
The document will be published on 29 July and the public will have six weeks to make representations.
It sets out a planning framework, between now and 2031, for the city of Lincoln and neighbouring districts of North Kesteven and West Lindsey.
It will be submitted to the Secretary of State in autumn, and the core strategy will be assessed by an independent inspector in early 2014.
'A lot' of houses
Peter Baldwin travelled from Willoughton, near Gainsborough, to hear discussion of the strategy at a meeting of the Central Lincolnshire Joint Strategic Planning Committee earlier.
Mr Baldwin said: "Of the housing that we've already got in Gainsborough there's not enough jobs around Gainsborough to provide employment for the people that live here today.
"How on earth can you say you are going to put 10,000 new houses in and around Gainsborough? To me it just seems a lot."
But the strategy's "vision" is that Gainsborough will become "a socially balanced, economically prosperous and environmentally sustainable town, where people choose to live, work, invest and visit".
The committee's chairman, Ric Metcalfe, said: "Nobody wants to see growth done in a clumsy, insensitive way."
The strategy's vision for Lincoln in 2031 states: "Many more graduates now choose to stay and move into the area, and employment and educational attainment are now above the national average."
The vision for Sleaford is that it will become "a welcoming and accessible network of interdependent, sustainable communities which are well connected to each other and their surrounding areas".