Lucy Tower car park reopening decision deferred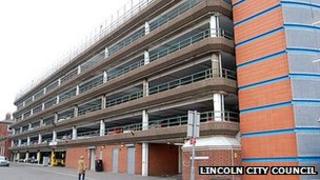 Lincoln's largest multi-storey car park will remain closed after officials said repairs needed more investigation.
The 458-space facility closed in March for what was due to be a five month, £1.4m renovation.
In June the city council admitted problems with the 70s structure were more severe than expected and delayed the reopening.
Following a meeting, the council said it could not yet give a date for the project to be completed.
The car park safety group said more work was needed to gauge the extent of the work needed and to calculate the cost and timescale of the additional work.
A spokesman said they appreciated the impact on motorists and businesses but insisted safety was their priority.
During works on the Lucy Tower car park, which brings in £850,000 a year when open, other car parks have been made available.