RAF Waddington drones protesters face trial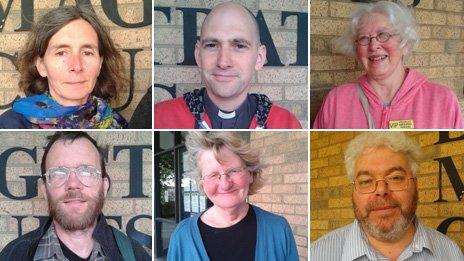 Six activists, including two priests, are to stand trial for damaging a fence during a protest at an RAF base used to operate unmanned drone aircraft.
The group, aged from 37 to 66, are charged with criminal damage of the fence at RAF Waddington on 3 June.
Additional charges of conspiring to commit criminal damage and obstructing or disrupting a person engaged in lawful activity have been withdrawn.
The trial will be at Lincoln Magistrates' Court on 7 October.
The date was set during a court hearing earlier, during which the activists were granted bail on the condition they do not go within 100 metres of any RAF base in Lincolnshire.
Reverend Keith Oliver Hebden, 37, of Nottingham Road, Mansfield
Father Martin Newell, 46, of Mattison Road, London
Penelope Walker, 62, of Gotham Street, Leicester
Susan Clarkson, 66, of Bath Street, Oxford
Christopher Cole, 49, of Wilkins Road, Oxford
Henrietta Cullinan, 51, of Trumans Road, London
Reaper aircraft began to be operated from control stations at RAF Waddington, Lincolnshire, earlier this year.
While the pilots are based in Lincolnshire the aircraft are based at Kandahar Air Field in Afghanistan.
UK Reaper aircraft carry laser-guided Hellfire missiles and laser-guided GBU-12 bombs.
But the Military of Defence says the aircraft are mainly used for surveillance.
An MoD spokesperson said: "We can confirm that thousands of hours of surveillance have been flown and a number of precision weapons deployed.
"However, we do not give a running commentary on operations from any of our ground or air armed platforms."
Related Internet Links
The BBC is not responsible for the content of external sites.