Japanese Power Ranger wins egg throwing contest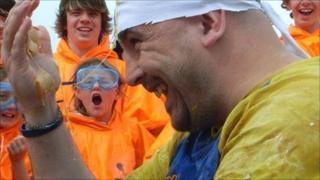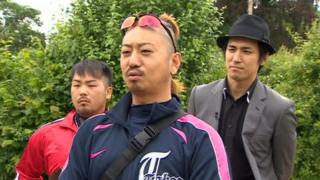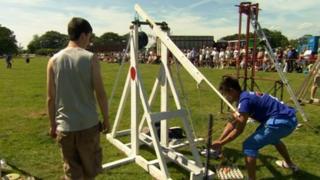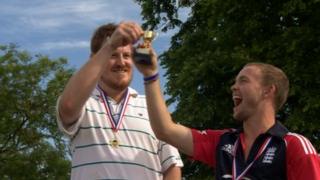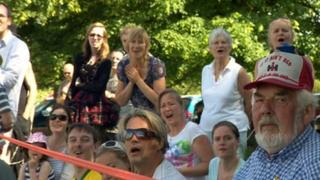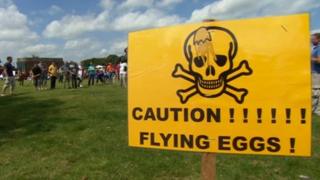 Spectators were warned to watch out for flying eggs as competitors from all over the world took part in a contest named "England's quirkiest event".
Winners at the World Egg Throwing Championship, held in Swaton, Lincolnshire, included a team led by a retired Power Ranger from Japan.
Organisers also invited TV personality Simon Cowell and musician Natalie Holt - who threw an egg at him on Britain's Got Talent.
After they failed to show, a late replacement won the Russian egg roulette contest, which involves smashing eggs against a contestant's forehead.
Andy Dunlop, president of the World Egg Throwing Championship, wants egg throwing to be recognised as an official sport.
A bid was rejected by Sport England in 2011.
"Egg throwing and catching involves three distinct skills - throwing the egg, catching it - and catching it without breaking it," said Mr Dunlop.
"Other so called sports like javelin and throwing the hammer are just playing."
The English team of Richard Wells and Tom Harrison were crowned this year's winners after throwing and catching their egg over a distance of 187ft (57m).
Sadly, current world record holder, Ireland's Wild Willie O'Donovan, dropped his egg at the 196ft (60m) mark.
The reigning world champions, Dutch duo Smink and Visser, failed to repeat the form which had previously won them the sought after title.
For the Japanese it was their first time at the championship but despite their lack of experience they were confident of doing well.
The Japanese team was led by Mitsuomi Takahashi, star of the children's hit TV series Power Rangers, aka Big Red.
The team came up trumps in the egg trebuchet event, which involves hurling an egg by means of a catapult type contraption.
The winning distance was 164ft (50m).
A seven-year-old local boy won the throwing with accuracy event - scoring two shots to the groin.
All money raised by the event, which was part of Swaton Vintage Day. will be used to support charities, including Leukaemia Research, The Red Cross, air ambulance provision, children's hospices, and Shelter Box.