Police dog bit raver at Bourne woodland gathering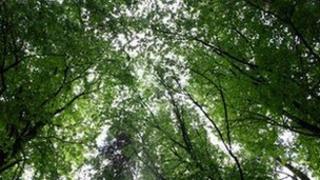 A raver was bitten by a police dog as officers dispersed "fairly hostile" people at an illegal gathering on woodland in Lincolnshire.
Two men were arrested at about 4:00 BST after police were called to the gathering near the town of Bourne shortly after midnight.
Both were arrested for possession of drugs and one of them was arrested on suspicion of being unfit to drive.
Police dispersed all of the ravers by about 6:00.
Insp James Trafford, of Lincolnshire Police, said there were "in excess of 150" people involved.
"The people involved were fairly hostile," he said.
"My understanding is the dog was deployed and somebody got a bit close to it and got a bite as a result."
Sound system threat
Insp Trafford added: "They didn't stay around and identify themselves so we believe it wasn't any serious injury caused.
"We spoke to the landowner and he has been very grateful for the fact they were cleared away."
Several residents phoned police to complain about noise from the rave.
Police served the ravers with a legal notice ordering them to leave the land.
When they did not leave, police began to seize their sound system.
The ravers then left, taking their sound system with them.
A gate was damaged and police believe this could have been done when the ravers accessed the land.