Lincoln Castle tower doors fire may have been arson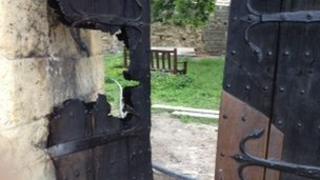 A fire which broke out at Lincoln Castle overnight may have been started deliberately, say fire officers.
Heavy wooden doors to the Lucy Tower were extensively damaged in the fire, which started at about 03:45 BST.
It is thought the doors, part of the original 11th Century castle, had been set on fire using lighter fuel.
The castle is currently undergoing a £19m restoration to walls and buildings and creating a vault to showcase the Magna Carta document.
'Heritage of city'
Staff called the fire "an act of mindless vandalism" on a door they said "had some heritage value".
Rachael Thomas, development manager, said: "It is very difficult to comprehend what would motivate this sort of action. When so much pain-staking work is going into restoring the castle, it is very disappointing."
Lincolnshire Police confirmed officers were investigating the fire which they suspected was caused by arson.
Spokesman Dick Holmes added: "It is the heritage of the city and indeed the heritage of the country, so we are treating this very seriously."