Dalek 'driving sessions' at Nettleham Junior School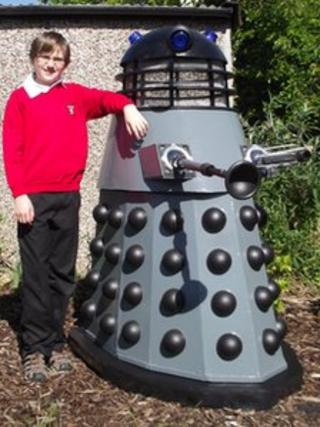 A father and his sons have built a "pet Dalek" from everyday objects in the spirit of the original 1963 Doctor Who.
The replica Dalek lights up and changes people's voices using a ring modulator - the device originally used to create the distinctive Dalek sound.
The Brumby family, in Nettleham, Lincolnshire, plan to use it to raise money for good causes.
They are offering Dalek driving sessions at Nettleham Junior School's summer fair, which starts at 18:00 BST.
Nigel Brumby said he started building the Dalek after his youngest son suggested it.
"There are lots of companies out there that produce Daleks but I thought 'I want to do it like they did in 1963', so everything is recycled or out of skips," he said.
"My youngest loves Doctor Who so we have been watching DVDs and there was a whole thing at the end about how the Daleks were put together and how the actors worked."
The Dalek is "driven" in the 1963 way, which Mr Brumby said is like pulling yourself along with your feet while sitting on an office chair with wheels.
Dalek in bathroom
"I had a go - you can't not have a go when you've got a Dalek. Once you get into a rhythm you can move it," he said.
He started building the 5ft 8in (1.73m) Dalek in October and the finishing touches were made this week.
His brother and three sons - Gage, 10, Lewis, 13, and Callum, 15 - all helped.
At one stage the family's bathroom was used as a workshop.
He said: "My wife Lyn came home and said 'Why is there a Dalek in the bathroom?'
"Not everybody has a pet Dalek."
The dome was moulded from an exercise ball, and other materials used include Christmas decorations on the skirt of the Dalek, vacuum cleaner pipes for the plunger and gun, and a ballcock for the plunger arm.
The Dalek driving sessions will raise money for the school but the family wants to raise money for Macmillan Cancer Support in future.
"Someone said I could push it round the 10k [a road race in Lincoln] but that's a bit too athletic," said Mr Brumby.