Chelsea Flower Show to feature Twitter-controlled garden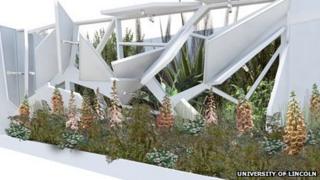 A garden which has been designed to respond to Twitter activity will be displayed at this year's Chelsea Flower Show.
It was created by staff and students at the University of Lincoln.
The 6x3m (20x10ft) plot will be divided by a panelled Perspex wall which will run diagonally across the garden.
The wall's panels will connect to a computer and will open or close depending on the volume of tweets about the Royal Horticultural Society show.
Throughout the show's six-day duration, the garden - named Digital Capabilities - will respond electronically to tweets which use the hashtag #rhschelsea.
After the show, the university hopes to display the garden permanently in its grounds.
Professor Shaun Lawson, a social media specialist, helped devise the idea for the garden.
He said staff and students from the university's computer science, architecture and psychology departments had helped develop the plans.
"The university has never had a garden at Chelsea before," he said.
"For many years we've wanted to design a garden that involved technology and we were inspired by a QR code garden which showed there last year."
Students from the university's architecture department worked with a garden design company on the idea.
The front section of the garden will feature traditional British plants, while the wall's panels will open to reveal more exotic plants in the hidden section.
"It's quite a fun thing to do and it mixes the physical world with the digital world in quite an interesting way," said Prof Lawson.
The flower show will be opened by the Queen on 20 May.