Spalding Flower Parade held for last time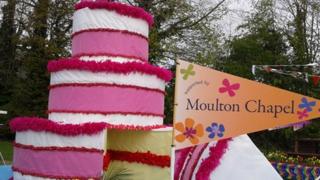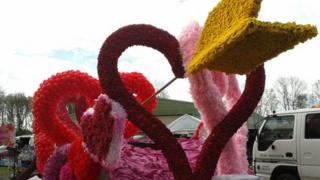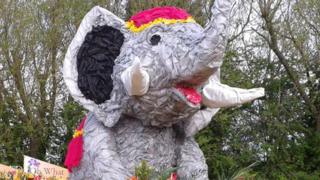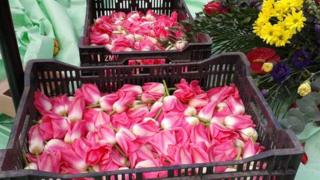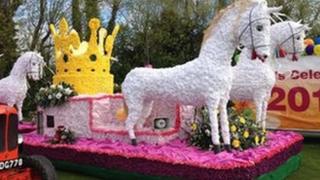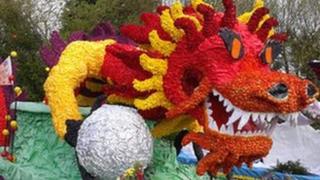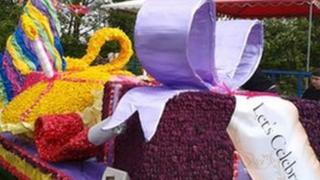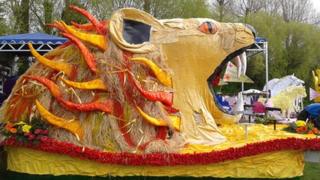 The last Spalding Flower Parade has taken place in the Lincolnshire town.
Organisers of the event said materials such as foils and raffias were used on the floats as there was a shortage of tulips due to the cold weather.
The parade left the Springfields Events Centre at 14:00 BST and travelled through the town centre along Pinchbeck Road and West Elloe Avenue.
The festival is ending as two local authorities said they would no longer pay for it.
The event has been running in the town since 1959.
Planning manager Kathleen Codd said a public meeting was being held in the town on 18 May to try to either raise funds or set up an alternative event.
"It would be a big loss to Spalding if there wasn't something to replace it. We have visitors coming from all over the world, so there are a lot of people who like to come and see it," she said.
Poor growing conditions meant only 200 bags of tulips were collected for the festival compared to 1,020 in 2012.
Ms Codd said the floats were still vibrant and colourful despite the flower shortage.
One of the main attractions of the parade was an 18ft (5.4m) high lion's head made from raffias and tulips.
Other displays included a dragon, elephant and a three-tiered cake.