Red Arrows pilot death: No charges over fatality say CPS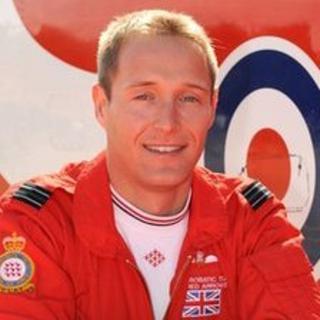 No charges will be brought over the death of a Red Arrows pilot killed when he was ejected from his cockpit.
Flt Lt Sean Cunningham, from Coventry, died after the parachute failed to open when he was ejected while on the ground at RAF Scampton in November 2011.
The Crown Prosecution Service (CPS) made the decision after reviewing files prepared by Lincolnshire Police.
Prosecutor Alison Storey said there had been insufficient evidence on whether anyone had breached their duty of care.
Following the incident at the Lincolnshire airbase, the RAF grounded all non-essential flying of all Hawk T1 aircraft fitted with the Mk10 Martin Baker-built ejection seat for one month "as a precaution".
Ms Storey, from the CPS special crime and counter terrorism division, also said there was insufficient evidence to convict Martin Baker Ltd in relation to the manufacture of the parachute.
She said: "I have provided the police with ongoing advice throughout their very thorough investigation into the circumstances surrounding the tragic death of Flt Lt Cunningham.
"To bring a prosecution there has to be sufficient evidence for a realistic prospect of proving all of these elements to the high criminal standard - beyond reasonable doubt."
She said the evidence she had considered concerning the death of the South-African born airman had been extensive and included results of testing equipment and expert reports.
"I extend my sympathies to the family and friends of Flt Lt Cunningham," she said.
The Health and Safety Executive has confirmed it is still investigating.
A pre-inquest review into Flt Lt Cunningham's death is set to take place on Friday at the Lincoln Cathedral Centre.