Lincoln Ladies: Move to Nottingham branded 'own goal'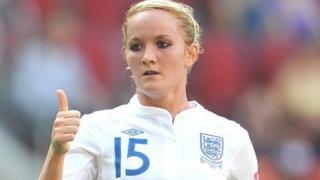 A move to rebrand Lincoln Ladies FC as Notts County Ladies next season has prompted an outcry from supporters.
Owner Ray Trew, who also runs Notts County men's team, is moving the club to Nottingham in 2014 where it will join a new two-tier Women's Super League.
Some supporters said on Facebook it was "a very sad day for ladies' football".
Mr Trew said there was an embargo preventing the club from making any further comment.
'Very tribal'
Former manager Glenn Harris said: "I think they could have explained the rationale and the benefits behind moving to Notts County and the commercial back-up that the club have.
"I have two daughters playing for the club… and I can fully understand that level of frustration and that is why I think the club had scored an own goal.
"Football in this country is very tribal… but to move the club forward that is the move that realistically you have to take.
"Emotionally it is a very sad time for Lincoln, but people have to be aware that it is money that's driving women's football like the men's game," Mr Harris said.
Mr Trew said: "It will all come out in three weeks' time - the whole rationale for all this and why they have become Notts County."
Other comments on Facebook described the move as "the worst news ever" and "a joke".
On Sunday, the team lost 2-0 to Bristol in the Ladies FA Cup semi-final.
The other teams joining Notts County in the top tier of the Women's Super League will be Arsenal Ladies, Birmingham City, Bristol Academy, Chelsea Ladies, Everton Ladies, Liverpool Ladies and Manchester City.