Cost of Thatcher's funeral a 'mistake' says Grantham Bishop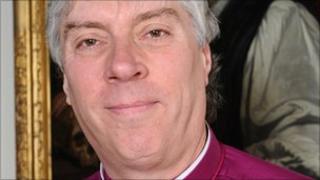 The Bishop of Grantham has spoken out about the scale and cost of Margaret Thatcher's funeral.
The Rt Rev Tim Ellis, from Baroness Thatcher's birthplace in Lincolnshire, has called the millions likely to be spent a "mistake".
He warned that while there is ill feeling about the former prime minister, some people may use the event for their own political agenda.
He said the ceremonial funeral should be "more low-key and personal".
The funeral, with military honours, will take place on Wednesday at St Paul's Cathedral in London.
'Violent reaction'
It will be the first time the Queen has attended the funeral of a British prime minister since Sir Winston Churchill's in 1965.
Dr Ellis said while there was sadness at the death of a human being, people demonstrating and rejoicing was "distasteful".
He added: "I am not surprised by the parties which show that events of 30/40 years ago still engender that kind of violent reaction because her reign was very divisive and controversial, and people still remember that today.
"In a context where there is great ill feeling about her legacy, we have a situation where we seem to be expecting the nation to glorify that with a £10m funeral is asking for trouble. People with extreme views will use it to promote their political views.
"We should be marking her as a person in Grantham and a with a more low-key, personal marking."
Speaking on Sunday Politics East Midlands, Conservative South Derbyshire MP Heather Wheeler, disagreed with the bishop's viewpoint.
"I think it is absolutely wrong. I can't believe he has come out with that statement," she said.
"When you look at other funerals there has been in the past, there has been a private funeral and then a national memorial, either in Westminster Abbey or St Paul's. Now that would have cost a fortune as well."