Chief Constable Neil Rhodes' suspension 'irrational'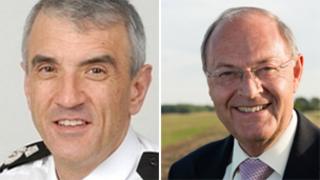 Lincolnshire's chief constable has been reinstated after a court ruled a decision to suspend him was "irrational and perverse".
Neil Rhodes was suspended by the county's police and crime commissioner (PCC) Alan Hardwick in February.
It was alleged Mr Rhodes helped a senior Muslim lawyer from West Yorkshire Police pursue a claim of racial discrimination "which he knew to be a contrivance".
Mr Rhodes will now return to work.
Speaking on Thursday outside the High Court in Manchester where he lodged his judicial review, he said: "I'm very pleased with the decision of the judge today who has declared my suspension irrational, perverse and therefore unlawful.
"I will return to work now and I will continue to serve Lincolnshire Police with a personal and professional integrity I believe I have displayed over the past 27 years."
Mr Hardwick said he accepted the judge's decision.
"The rules governing PCCs don't really envisage this sort of thing, there is more guidance needed," said Mr Hardwick.
"In the meantime, it would appear that if PCCs make any decisions at all, they are going to have to be looking over their shoulder because this decision has been made by a judge."
The court heard Mr Rhodes had "friended" the Muslim lawyer, who was dismissed from West Yorkshire Police after 17 years and was suing his former employer.
Mr Rhodes then became involved in the proceedings and the pursuit of racial discrimination claims which he knew to be untrue, the court was told.
But his lawyers argued he simply tried to get the various parties around the table to talk and did not know enough about the claim to offer any opinion on it.
The court heard Mr Rhodes believed, rightly or wrongly, that the lawyer's dismissal was based on discrimination.
'Unblemished service'
His legal team argued the suspension was "unlawful and irrational".
Mr John Beggs QC told the hearing: "This PCC overreacted, perhaps through not having the experience, or advice, or assistance to appreciate that suspension is a last resort, a near nuclear option."
But Mr Hardwick's lawyers argued it was perfectly rational and reasonable to suspend Mr Rhodes on the basis of the information the PCC had received.
Mr Justice Stuart-Smith said: "Mr Rhodes had 27 years of unblemished service which should have weighed in the scales."
Mr Rhodes was appointed as temporary chief constable in March 2012.
The matter was referred to the Independent Police Complaints Commission (IPCC), but it decided not to investigate.