Lucy Tower and Thornbridge car park closures 'unavoidable'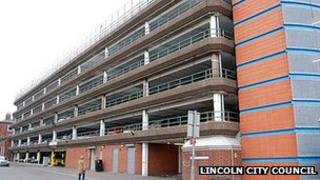 The City of Lincoln Council says having two of its main public car parks closed at the same time is unavoidable.
Lucy Tower car park will be shut for five months while essential structural work is carried out.
The Thornbridge parking facility is also closed because resurfacing work has overrun due to poor weather conditions.
Councillor Ric Metcalfe, the authority's leader, said he wanted to make sure they were safe to use.
'Important assets'
The 458-space multi-storey Lucy Tower car park, next to Brayford Pool, will shut from Monday for £1.4m of maintenance work.
Mr Metcalfe said: "We haven't planned it this way, it's the weather that has intervened. The surfacing going on at Thornbridge requires consistent temperatures.
"These are hugely important assets. We've got to make sure we invest in our car-parks to make sure they are safe.
"We cannot ignore safety advice otherwise we would have delayed the work at Lucy Tower until Thornbridge was back in use."
The council accepted the closures would cause problems for business.
Alternative spaces have also been opened up at Orchard Street, Tentercroft Street and Broadgate.