NHS whistleblower Gary Walker 'faced bullying culture'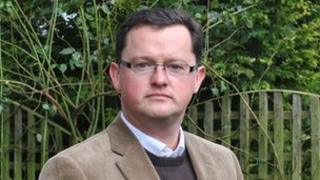 The former boss of a hospital which is being investigated over high death rates has told MPs there was a culture of "sheer bullying" in the NHS.
Gary Walker, former United Lincolnshire Hospitals Trust chief, said he was sacked because of a row over an 18-week non-emergency waiting list target.
He said he was threatened by the East Midlands Strategic Health Authority when he flagged up capacity problems.
Mr Walker was dismissed in 2010 for "gross professional misconduct".
The NHS said he was sacked for allegedly swearing in a meeting and denied Mr Walker's claims he was "gagged" by a compromise agreement for raising concerns about patient safety.
'Red alert'
Speaking for the first time in public, Mr Walker told the health select committee staff had been forced to cancel 700 operations when hospitals were full of emergency cases in 2009.
He said he had to put Lincoln County Hospital on an emergency footing, or red alert, but felt pressurised by health executives.
He said the response from the health authority was "this is your problem - you need to meet the targets whatever the demand".
"It is a very dangerous thing to be trying to push through targets when hospitals are dangerously overfull," he said.
Mr Walker told the committee: "I got a phone call from [Dame] Barbara Hakin [former chief executive of the East Midlands Strategic Health Authority] saying 'we're about to approve £11m of funding for your trust and that's going to be very difficult while you're on red alert'.
"I don't personally see the link between £11m of largely capital funding to build facilities and being on red alert, the two are separate.
"One is about operationally running a hospital safely and the other one is about longer term plans."
Mr Walker said he prepared a presentation for the Department of Health about problems with hitting targets but was ordered to remove any reference to him calling for a capacity review.
He said: "If you upset the SHA [Strategic Health Authority], particularly the one I was working for, there would be repercussions for you. You work in that environment as best you can."
'Evidence presented'
Mr Walker, who was sacked in 2010 for "gross professional misconduct" over alleged swearing at a meeting, said he was forced to quit after refusing to meet Whitehall targets for non-emergency patients and was gagged from speaking out as part of a settlement deal.
In a statement, NHS East Midlands, (now part of NHS Midlands and East) said: "The material [submitted to the health select committee] makes it clear that it was NHS East Midlands that was concerned about patient safety at the trust.
"It was the SHA which commissioned a series of reviews into the systemic problems at the trust which included:
Failure to meet national standards for Accident and Emergency and the requirement for patients to commence treatment within 18 weeks of referral from their GP
The excess number of C. Difficile infections
The underperformance of the trust against two key national cancer standards.
"The evidence presented to the HSC makes it clear that there has never been any finding that Gary Walker had raised genuine concerns that would constitute his designation as a whistleblower.
"Now that the compromise agreement between Mr Walker and his employers, which referred to his employment status and his dismissal, has been set aside, the SHA is in a position to put its view of events into the public domain which it has not been able to do before."
United Lincolnshire Hospitals Trust is one of 14 hospital trusts in England currently being investigated for high death rates.