Grantham Museum confirms Thatcher statue plans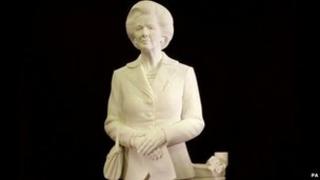 Former Conservative Prime Minister Margaret Thatcher will have a statue erected in her honour in her home town of Grantham in Lincolnshire.
A plan to raise more than £200,000 for a statue and renovation project at the Grantham Museum has been unveiled.
Labour councillors had called for a town centre statue after the Conservative-majority authority voted against the move last week.
Grantham Community Heritage Association (GCHA) is behind the latest plan.
'Fitting' tribute
A spokesperson for the charity said: "Margaret Thatcher remains one of the UK's most important political figures.
"Her connection with Grantham is evident in her biographies and in recognition of her association with Grantham the board of trustees believe that a statue in the museum is fitting."
At least 50p of every £1 raised will go towards renovating the museum and associated Margaret Thatcher exhibits, the spokesperson added.
The remainder will be spent on commissioning a statue of the Grantham grocer's daughter, which be "hosted in the renovated museum".
It is hoped the money will be raised through donations and the sale of merchandise and "will take as long as it takes" to reach the target amount.
The Grantham Museum is managed and run by the registered charity and staffed by volunteers after control was passed from the county council in 2012.
Decapitated statue
Grantham Mayor Ian Stokes said: "I, as the mayor, would undoubtedly support the recognition of Margaret Thatcher for what she has done in the past."
The GCHA said it was in the process of contacting the Thatcher family about the project and would ensure that "she and the family are kept informed at all stages to make sure they are as equally happy as we are with the plans".
In 2002, a white marble statue - unveiled by the former prime minister - was decapitated at Guildhall Art Gallery, but later restored and put in storage at the House of Commons.
Grantham Museum manager Jayne Robb was suspended for "erroneously" claiming last month the museum been offered the statue.
'Express wish'
The Conservative-majority South Kesteven council voted last Friday against having a statue in the town.
Labour councillors said a statue could help boost tourism in the area.
Tory councillor Bob Adams said it was the "express wish of Baroness Thatcher that a statue not be erected" in the town.
At present lady Thatcher is commemorated with a small plaque outside her father's former grocery shop in Grantham and with some exhibits inside Grantham Museum.
The 87-year-old has suffered from ill health in recent years and after a series of minor strokes in 2002 was advised by doctors to stop making public speeches.
She was the UK's first female prime minister and served three terms in that post, between 1979 and 1990.