Bleasby Moor chicken farm plans are approved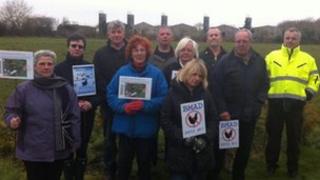 Plans for a chicken farm housing more than 300,000 birds in a small Lincolnshire hamlet have been approved.
The broiler unit at Hill Top Farm in Bleasby Moor, between Wragby and Market Rasen, could turn over its capacity of chickens every six weeks.
Some residents had protested against the plans, fearing extra noise, traffic and health issues.
Jagger Poultry said it was merely upgrading existing buildings to be more efficient.
Opponents said part of the farm would be just 150 metres away from houses and it would create nearly 150 vehicle movements a day.
'Cleaner, greener'
The application was passed by West Lindsey District Council's planning committee on Wednesday night.
Resident Andy White said: "Part one was fighting the application, part two will be carrying on to pursue other courses of action against the application.
"I know we can't overturn it but there are certain courses of action we can take to ensure the development does not affect the village too much."
John Palmer, who put in the application, said: "This will be a cleaner, greener operation.
"We are demolishing buildings to build new ones, it is not a new farm, it is not an expansion and the highways department has had a look and approved it."