PCC denies chief constable suspension 'unsettling'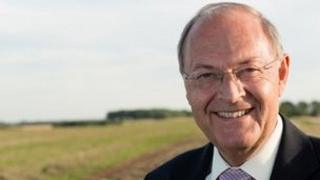 The police and crime commissioner (PCC) of Lincolnshire has denied that the suspension of its temporary chief constable has unsettled the force.
Neil Rhodes was suspended from duty by the PCC while investigations into "potential conduct matters" were being considered.
Mr Hardwick said the announcement was not unsettling for Lincolnshire Police and it was "business as usual".
The reason for the suspension has not yet been revealed.
'Can't say anything'
Mr Hardwick added that he was waiting to hear whether the Independent Police Complaints Commission (IPCC) would be investigating.
Asked about reports that some senior officers felt unsettled at the suspension, Mr Hardwick said: "I can't [say] anything about the nature of the allegations that led to the suspension of the chief constable. It wouldn't be proper.
"There is no secrecy as far as I'm concerned. It's a process which will be worked through.
"I'm going to meet senior police officers at the force. My indication is that it is not unsettling, it is business as usual for policing in Lincolnshire."
Lincolnshire Police has not commented on the matter.
Deputy Chief Constable Alec Wood was appointed acting chief constable last week.
Mr Rhodes took up the role on a temporary basis when the previous chief constable Richard Crompton retired at the end of March, last year.
Mr Rhodes was placed in charge until the end of March 2013, when his future was scheduled to be discussed with the new PCC.
His appointment followed a deal with private security company G4S to run an out-of-town custody suite at the force's Nettleham headquarters, near Lincoln.
He said the changes would save the force money for front-line police officers and police community support officers.
In November PCC Alan Hardwick said he would scrap the plans.