Grantham Hospital: Petition asks for services to be protected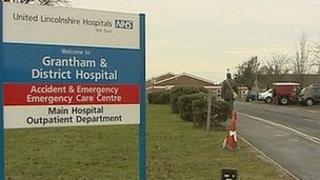 A 7,500 signature petition has been given to NHS managers, calling for services at a Lincolnshire hospital to be protected.
The group SOS Grantham Hospital handed in the document at the end of a 90-day consultation period on the future of the site.
Plans include the closure of the maternity unit and expanding outpatient services.
Officials confirmed more than 700 formal responses had been received.
The consultation focuses on five areas - the midwifery-led birthing unit, accident and emergency and out of hours, planned care, acute medicine and children's services.
Hospital bosses said there were only 100 births at the birthing unit from April 2011 to March 2012 compared to almost 4,000 in Lincoln.
The chair of the SOS group, Councillor Charmaine Morgan, said: "People from the Grantham area are having to travel a minimum of 20 miles to find the nearest alternative hospital with maternity unit or for accident and emergency if they are critically ill.
"So we think it is key the acute services remain at Grantham hospital."
Alan Kitt, from the South West Lincolnshire Clinical Commissioning Group, said: "All of the responses will be evaluated by the University of Lincoln so we have got someone independent to look at what people are saying, what are the messages."
The NHS will reveal its final plans for the hospital in May.