Attraction will make Skegness less 'bracing'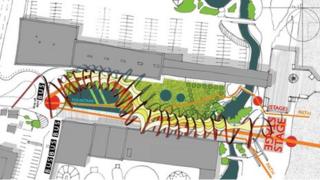 A planned attraction for Skegness will protect holidaymakers from the "bracing" winds the seaside town is famous for.
The £1.2m development will include a walkway to protect against adverse weather, with stages at either end.
East Lindsey District Council claims the shape of the walkway mirrors the waving arms of the Lincolnshire resort's famous Jolly Fisherman mascot.
Those involved hope it will become an "iconic addition" to the foreshore.
It will be built between Skegness Pier and Bottons Pleasure Beach, whose owners will contribute to the cost.
The resort is famous for the railway poster which depicted a jolly fisherman waving his arms with the caption "Skegness is so bracing".
Skegness mayor Mark Anderson said: "The idea for the covered walkway came from an employee at Bottons who recognised the challenge for the tourism industry in adverse weather and the need to extend the season.
"There is still a long way to go but the project is heading in the right direction."
The planned attraction will also include lighting displays and fountains timed to music.
Skegness Town Centre Partnership will apply for planning permission soon.
The development could be up and running for March next year.