Gainsborough celebrates 1,000 years since its stint as capital of England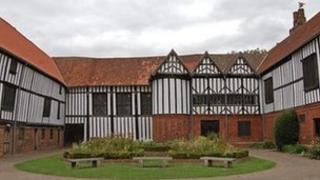 A Lincolnshire town is celebrating the 1000th anniversary of when it was briefly the capital of England.
Gainsborough was named as capital of the country, and also Denmark, for five weeks in 1013.
To mark the occasion the town will centre its annual festival around the historic event.
Gary Cooke, events officer for Gainsborough Town Council, said the event would be a chance for people to learn about the town's history.
Mr Cooke said: "We hold our festival each year but this year we wanted to up the ante and raise the profile of why Gainsborough was an important place to be in 1013.
"For five weeks Gainsborough was the centre of where England was ruled from and this theme will run through our parade and we will be getting as much information as we can into the schools."
Died of poisoning
Darron Childs, from the Delvers local history group, said the events of 1,000 years ago were exciting for the Lincolnshire town.
The king at the time had ordered the massacre of anyone with a Danish connection in England.
Sweyn Forkbeard, King of Denmark, then came to this country seeking revenge and to claim the crown for himself.
Mr Childs said: "As the attacks increased King Sweyn sailed on the Trent to Gainsborough and made the Castle the centre of his operations. Things in the town must have been very unrecognisable to today."
He was declared King of England on Christmas Day and returned to Gainsborough.
However, five weeks later, he was found dead at the castle of suspected poisoning.
The town will celebrate its short stint as capital at during the Gainsborough Riverside Festival in June.