Brothers rescued from burning boat off Lincolnshire coast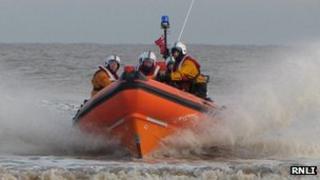 Two brothers had to be rescued from the North Sea when their boat burst into flames.
The 11m (36ft) fishing vessel Hunter suffered engine trouble on Sunday off Saltfleet Haven in Lincolnshire and headed back to shore.
But it caught fire before they reached land and the crew had to beach it on a sandbank and escape in a life raft.
They were picked up by Mablethorpe inshore lifeboat and the men are both safe and well.
Burning boat
The Maritime and Coastguard Agency said the pair were about one nautical mile out to sea when they first got into difficulty and turned round.
But the engine caught fire and took hold too quickly to put out so the men had to abandon ship.
An agency spokesman said they called 999 at about 18:50 GMT and Yarmouth Maritime Rescue Co-ordination Centre immediately scrambled the RNLI lifeboat, from Mablethorpe, as well as Coastguard Rescue Teams from Mablethorpe and Donna Nook.
One of the men fell into the water and had to be pulled out by the RNLI. He was treated for shock and cold.
Senior helmsman with the Mablethorpe Lifeboat, Shaun Riggall, said: "As soon as we took to the water we could see the boat burning in the distance."
It was left to burn out on the side of the bank.