Red Arrows: Temporary move to RAF Cranwell whilst runway repaired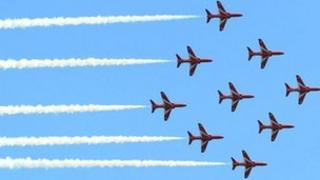 The Lincolnshire-based Red Arrows will move to a new base in the county for the remainder of their winter training.
The aerobatics display team is moving to RAF Cranwell from RAF Scampton whilst maintenance work is carried out.
The move on 29 January will allow repair work to take place on the runway at RAF Scampton.
A majority of their training flights will continue to be in airspace over the Scampton area.
The team will remain at RAF Cranwell until they move to Europe in March for training sessions there.
The Red Arrows have been training in Anglesey in Wales for a week due to heavy snow in Lincolnshire.
Three new pilots will arrive later in the year allowing the them to return to a nine-strong formation after flying with seven for much of 2012.
This followed the deaths of Flt Lt Jon Egging and Flt Lt Sean Cunningham, who were killed in separate incidents in 2011.