Boston immigration levels to be discussed in Parliament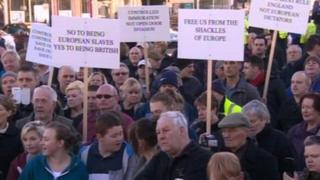 The effects of immigration on a Lincolnshire town will be discussed in the House of Commons.
Paul Kenny, a councillor in Boston, Lincolnshire, will present a report to MPs on how the large influx of migrant workers has changed the area.
Last year residents held a "peaceful protest" to highlight the pressures on services after 9,000 foreign workers settled in Boston in recent years.
Igor Kartel, a representative for the Polish community, blamed the recession.
Mr Kenny, an author of the report, said he wanted MPs and members of the all party committee to act on the situation.
'Working together'
"Boston is a small microcosm of what is happening in other parts of the country where there are similar issues," he said.
"We have highlighted some of these issues in the report and we are trying to get a sympathetic ear about Boston's problems and see if we can get some changes. This is about working together."
The report on population change by the Task and Finish Group from Boston Borough Council has made 28 recommendations to the government on how to improve things in the town.
Boston resident Rachel Bull, who is half Polish, raised the issues on Question Time last week and said services in the area were at bursting point.
She said: "I am not anti-immigration but I couldn't just sit there and say nothing, I needed to speak out for the Boston people.
"The schools, doctors and hospitals in Boston just can't cope with the huge number of migrant workers and we are not offering Boston people, whether locals who have lived here for years or the migrant workers, the services they need. So we are all missing out."
Igor Kartel, chair of the Eastern European Community Group in Lincoln, said problems in the area had been made greater by the effects of the recession.
"Immigration is not something new in this country, but at this time with a recession and a massive wave of immigration, it creates a lot of issues," he said.
"I agree there are problems with services in Lincolnshire, but integration takes time and there are positive aspects of that which is what we should focus on."