Grantham food bank 'needs £20,000 a year to survive'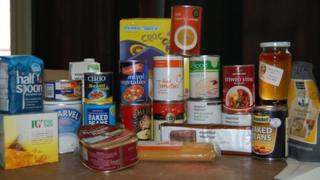 A food bank that has helped 2,000 people in the past two years needs at least £20,000 a year to keep it afloat.
Brian Hanbury of Grantham Foodbank said the service would only survive another "six or seven months" without additional funding.
"The number of people using the service has increased by about 40% over the past few months," he said.
An unemployed former marine who uses the food bank said it would be "devastating" if it closed.
'Nowhere to turn'
Jarrad Witton said: "I thought places like this were only for the homeless - but when you have nothing you have to ask for help.
"I think it would be a devastation in the town (if the food bank closed). There is nowhere else to turn."
The food bank was established by local churches with the help of the Trussell Trust in 2011 but the funding from the churches is "just not there", Mr Hanbury said.
"It all comes down to the financial situation - the money is just not there from their (the churches') perspective."
The food bank was started with a £5,000 grant from South Kesteven District Council and has served 18,000 meals since it opened.
Mr Hanbury added: "We can provide a meal to a customer for about £1.78 - it's not much - about the price of a coffee.
"And we will stretch out every penny we have. If we could get access to a building in the town it would save us about £7,000 a year."