Lincolnshire NHS trusts: Action taken on staffing levels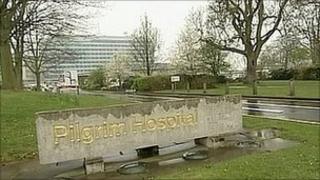 Two Lincolnshire hospitals criticised for having unsafe staffing levels say they have recruited new employees.
Boston Pilgrim Hospital and Rutland and Stamford Hospital were among 17 hospitals on a Care Quality Commission list released by the Labour Party.
Both NHS hospital trusts said they have increased staffing levels since the CQC inspections.
The CQC issued a warning about staffing after inspections at Stamford in August and Boston in December 2011.
Clinical staff
The United Lincolnshire Hospitals Trust, which runs Boston Pilgrim Hospital, said: "Over the last year we have successfully recruited to a large number of clinical posts for both nursing and medical staff.
"We have also carried out a review of the nursing establishment on all wards across all hospital sites in the trust and are in the process of introducing a new staffing template to be used on every ward."
A spokesman for the CQC said it had told the hospitals they must comply with its standards, and show how they were going to achieve this.
The Labour Party, which released the information, has pointed out nursing numbers in England are down nearly 7,000 since the coalition came to power. It said providers could not offer the standards of care everyone wanted to see if they were overstretched.
Chris Wilkinson of Peterborough and Stamford Hospitals NHS Foundation Trust said: "Inspectors from the Care Quality Commission raised moderate concerns that the level of staffing was not always adequate on the John van Geest ward at Stamford and Rutland Hospital from when they visited in August 2012.
"We have been successful in filling several vacant nursing posts. In addition, staffing rosters have been reviewed and modified to ensure adequate staffing levels at weekends and during staff meal breaks."