Lincolnshire PCC plans to recruit more volunteer officers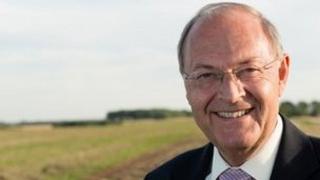 The new police and crime commissioner (PCC) for Lincolnshire has pledged to maintain officer numbers in the region and recruit 1,000 more volunteers.
In his Police and Crime Plan, Alan Hardwick said he wants to expand the county's special constabulary and volunteer PCSOs.
He said the five-year plan would help reduce crime and provide police and services for residents.
Members of the public can give their views until the end of January.
Mr Hardwick said: "I believe I have a plan that will see crime reduce, deliver a fair deal for the people of Lincolnshire and provide police and services that are there when you need them."
Working together
He also wants all police officers to wear uniforms when on duty, unless there are operational reasons not to, and wants all police vehicles in front-line policing to be clearly marked.
He also promised that police stations would not be closed "where there was a demonstrable operational or community need".
Mr Hardwick added: "In the plan I have recognised that partnership working is vital. It is impossible to prevent crime and ensure the safety of our communities without us all working together.
"In addition to the plan, in the coming weeks I will announce how I will fund community safety initiatives and projects that support victims."
Mr Hardwick was elected as the new PCC in November to set priorities for Lincolnshire Police and oversee its budget.
His plan is available online and members of the public can give their views before the plan is formally submitted to the police and crime panel at the end of the month.