Gamekeeper guilty of poisoning buzzards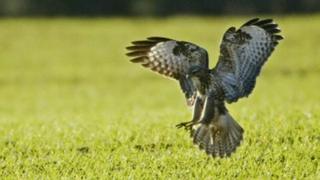 A gamekeeper convicted of poisoning two buzzards had enough illegally-held poison to destroy all the birds of prey in Lincolnshire, the RSPB has said.
Robert William Hebblewhite, 71, of Appleby, Scunthorpe, was fined a total £1,950 after the birds fed on pheasant carcasses laced with pesticide.
The buzzards were found dead on land at Blyton, Lincolnshire, in September 2011, where he worked as a volunteer.
Toxicology tests revealed they died from Carbofuran poisoning.
Mark Thomas, from the RSPB, said: "The possession and use of Carbofuran is illegal - yet birds of prey are still being killed by this poison.
'A few grains will kill'
"This conviction shows this poison is still in circulation in quantities sufficient to kill huge numbers of birds of prey.
"A few grains will kill - a jar is enough to kill all the birds of prey in a county."
He added: "It is time for this illegal and indiscriminate practise to be consigned to the pages of history."
At Lincoln Magistrates' Court the judge described Hebblewhite as an "old-fashioned" gamekeeper, who had resorted to "vicious" methods.
The judge told Hebblewhite it was "lucky" no other creature, or human, had discovered the poisoned baits first.
Hebblewhite had pleaded guilty to possessing Carbofuran at an earlier hearing, on 15 October, 2012, but denied poisoning the buzzards.
The RSPB said it was a widespread practice to place poison on a rabbit or pheasant carcass, which is then left for birds of prey to consume.
Historically, buzzards were absent from much of eastern Britain because of persecution.