Morton Hall riot was 'exaggerated', independent board claims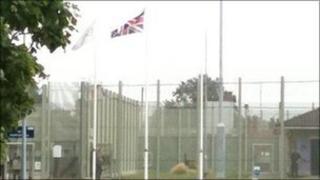 Claims of rioting at an immigration removal centre have been "exaggerated", its independent board has claimed.
Officers were hurt during four days of disturbances at Morton Hall in Lincolnshire over the Christmas period.
Prison officers union, the POA, said five members of staff had been hurt, and added it feared one of its members would get killed.
But Rod Booth, who chairs the Independent Monitoring Board, denied there were full scale riots.
He said he had looked at CCTV footage and the POA's version of events had been exaggerated.
'No danger'
He said: "In my opinion there is no danger at Morton Hall whatsoever. There has never been any tension and I believe the staff/detainee relationship is very sound.
"The POA has taken a serious incident and made it into something far worse."
The union said staff feared losing control of the centre after a large fight broke out involving up to 50 detainees armed with knives and pool cues.
Responding to Mr Booth's comments, Glyn Travis, from the union, said: "In my opinion even one assault on a member of staff is one too many and is unacceptable.
"You will always get different views and opinions but I'm very disappointed the IMB don't believe these incidents are serious. No-one should play down four incidents in such a short period of time."
Sarah Campbell, from the charity Bail for Immigration Detainees said disturbances were not rare.
She said: "People are being detained for a long time and sometimes for a number of years, not after being sentenced at court for a criminal offence but for administration reasons because their immigration status is insecure.
"Therefore, in some cases, people are being detained unlawfully and are very frustrated."
The IMB and Border Agency said 12 detainees from Morton Hall had been transferred to other centres and an investigation was under way.