Morton Hall Immigration Centre officers hurt during violence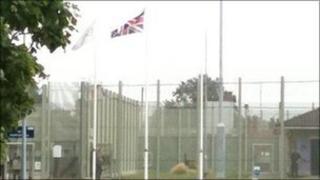 Five prison officers were injured during disturbances at an immigration removal centre, it has emerged.
Weapons including home made knives, pool cues and balls were used when up to 50 detainees fought at Morton Hall in Lincolnshire, according to staff.
The UK Border Agency insists Morton Hall is a safe place for detainees and staff, but has transferred 12 detainees to other centres.
Union bosses fear an officer could be killed because of understaffing.
Glyn Travis, spokesperson for the POA union, which represents staff at the centre in Swinderby, said his members were in danger.
'Refused to disperse'
"We feel one of our people is going to get killed as staffing levels have been reduced.
"We will get a member of staff murdered on duty."
Mr Travis said one detainee was taken to hospital with serious head injuries.
However, the Border Agency said the detainee was taken to hospital with a hand injury and a small cut to the head.
A spokesperson said he was not admitted to hospital and returned to Morton Hall shortly afterwards.
He added the most serious injury was to a female member of staff who was punched in the back and face.
Mr Travis said the trouble began on 24 December when there was a "passive demonstration" involving between 30 and 40 detainees, who were complaining about conditions and "refused to disperse".
"We feared a wholesale riot and loss of control", he said.
Staff eventually persuaded the large group to break-up, according to the union.
On Christmas Day, Mr Travis said there was also a "serious attempted escape".
Staff found a detainee had placed a dummy in his bed to fool them during checks.
The detainee was found hiding in a bin "hoping to get away", he said.
On Sunday, he said troubles erupted to a dangerous level when between 30 and 50 Afghan and Vietnamese detainees were involved in a fight.
Detainees transferred
Mr Travis said: "When you've got 12 men kicking and stamping on another person's head you know it could have the consequences of leading to death.
"It really kicked off and the security at Morton Hall was hanging by a thread."
A UK Border Agency spokesperson said: "All our Immigration Removal Centres are overseen by an Independent Monitoring Board.
"We will not tolerate any behaviour which might put anyone at risk of harm.
"[However] Morton Hall is a safe place for detainees and staff."
The agency said the first disturbance was resolved within an hour and all detainees returned to their rooms without further disruption.
He added the disturbance last Sunday was again resolved within an hour - with five members of staff sustaining injuries and one detainee being taken to hospital.