Flood-hit East Midlands bridge remains closed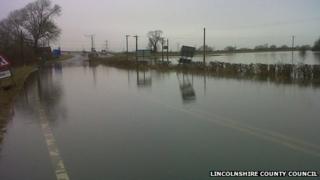 A major bridge across the River Trent remains closed due to flooding a week after it was shut.
The closure of the Dunham bridge in Lincolnshire means motorists face diversions via Newark or Gainsborough.
Environment Agency spokesman Sue Quinlan said it was not yet clear when the bridge, near the Nottinghamshire border, would reopen.
Elaine Cleaver, landlady of the White Swan pub in Dunham Bridge, said the closure had been "terrible" for trade.
"We would normally serve about 100 Sunday lunches but this week we sold 12. It has hit other businesses in the area as well," she said.
Mrs Cleaver said many motorists were leaving the M1 and heading along the A57 even though there were closure signs. She added that the diversion via Newark took at least 45 minutes.
Mud clearance
A period of dry weather over the next few days could help resolve the problem, Mrs Quinlan said.
"We would really urge anyone who is out there driving to make sure they do not drive through flood water - even 2ft of flood water can float a car away," she said.
"We also want to remind people not to walk through flood water either as that is dangerous."
She said the flood water had receded from some sections of the A57 but "a lot of debris remains there that the Highways Agency will need to clear".
Lincolnshire County Council said highways crews would inspect the roads for damage and debris once the flood water had receded.
Highways spokesman Alan Aistrup said: "Daily inspections are taking place and, with the waters now receding, we're speaking with the Environment Agency and Internal Drainage Board for any indication of how quickly the flood waters are likely to recede, allowing the road to become clear.
"We also expect several inches of mud layers caused by the floodwater which will need properly cleaning off the surface before it is safe for traffic."
The A617 Kelham Bridge over the River Trent near Newark in Nottinghamshire, which was closed for several days due to flooding, has reopened.