Flooding shuts two major River Trent bridges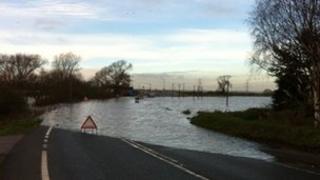 Two major bridges over the River Trent in the East Midlands remain closed after heavy rain caused flooding over Christmas.
The A617 Kelham Bridge near Newark in Nottinghamshire is closed along with the A57 Dunham toll bridge near Saxilby in Lincolnshire.
A Lincolnshire County Council spokesman said motorists should plan alternate routes and avoid any standing water.
Flooding has also closed roads in other parts of the region.
Warning signs
"We don't close a road lightly - there is always a good reason," Lincolnshire County Council spokesman David Davies said.
Environment Agency spokesman Irven Forbes said motorists should always follow instructions on flood warning signs.
"People are sometimes lulled into a false sense of security. If you see standing water and you do not know what you are driving into - you should not proceed."
Mr Forbes said the levels in the River Trent were expected to remain high for the next few days.
"We have had a lot of rain but we have not had any reports of flooding of properties from rivers in Lincolnshire," he added.