Church organist honoured for five decades of service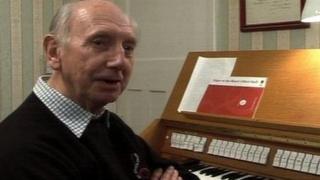 A long-serving church organist and the organiser of a Lincolnshire village's luncheon club have been named in the New Year Honours list.
Geoffrey Winter, from Grantham, is to receive a British Empire Medal in recognition of his 52 years at the town's St John's Church.
Coningsby's Lorna Curtis is to get the same honour for 25 years running a luncheon club for elderly people.
Lincoln-born Paralympian Sophie Wells has been appointed MBE.
Mr Winter, who is also a choirmaster at the church, said: "It makes you feel very humble. You always imagine people who are given awards are very famous people.
"For somebody like me, who just toils along in the organ loft week after week, it's good."
Mrs Curtis admitted she thought her husband had been playing a joke when she first learned she was receiving the medal but said she felt "honoured".
Horse rider Sophie Wells is recognised for her team gold and two individual silver medals at the London Paralympics.
Elsewhere in the county, Professor Muriel Robinson, vice-chancellor of Bishop Grosseteste University College in Lincoln, is appointed OBE for services to higher education and Jayne Field, from Sleaford, becomes an MBE for services to the Sleaford Concert Band.
Margaret Jessop. from Boston, also received a British Empire Medal for charitable services while Barry Buxton, from Ropsley, was given the same award for services to the community.