Boston Stump: Grant for repairs at St Botolph's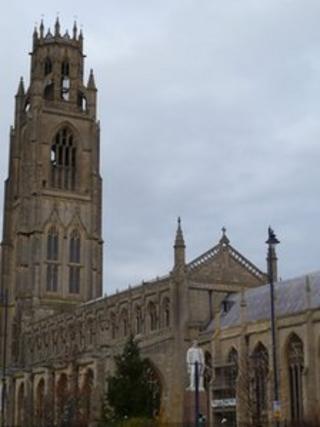 The "biggest parish church in the UK" has been awarded a grant of £50,000 to help mend its leaking roof.
St Botolph's Church, in Boston, known as the Stump, is using money from the National Churches Trust to carry out repairs to the south side of the roof.
Some of the money will also be used to fund a restoration project in the Cotton Chapel.
Staff at the 700-year-old church are currently using buckets to collect water from the leaking roof.
Fundraising manager Peter Coleman said: "We've had problems with the roof of the south aisle for a number of years, and it needs some quite significant work to make it watertight."
Earlier this year, the Princess Royal, who is a patron of the restoration appeal, officially opened a new gift shop, cafe and toilets, as part of a £250,000 restoration project.
Two other churches in Lincolnshire, both on the Heritage at Risk Register, have also received grants of £10,000.
St Swithin in Lincoln and St James in Woolsthorpe by Belvoir.