Ingoldmells sewage smell prompts prosecution threat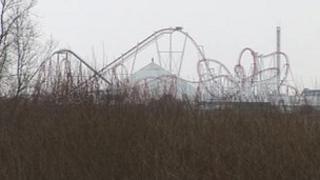 A water firm has been threatened with legal action unless it stops smells from a sewage treatment works drifting into a seaside resort.
Lincolnshire County Council said the problem with Anglian Water's plant in Ingoldmells had gone on too long.
Traders in the resort said the unpleasant smell was hurting trade.
Anglian Water, which has already spent hundreds of thousands of pounds trying to solve the issue, pledged to find a solution.
In January, the firm spent £800,000 on improvements to try to combat the smell, but residents said it had not worked.
It is now planning a further £200,000 worth of work.
'Enough is enough'
Guest house owner Jean Ellis said: "It just smells like you're stood at the side of an open sewer.
"Shops are becoming empty, people are moving out. It's having a major impact on our economy."
Colin Davie, from Lincolnshire County Council, said the authority would be prepared to prosecute Anglian Water under enforcement regulations if it did not find a solution soon.
He said: "We've now reached the point where we and the district council are saying 'enough is enough' basically.
"We are going to take whatever action is appropriate to ensure Anglian Water fulfil their statutory duties."
Peter Joyce, from Anglian Water, said: "We all understand it's a complex problem which we need to work together on.
"But we absolutely know we've got a duty of care to the residents of Ingoldmells and we want to provide a final solution, which we will do."