Church metal theft men from Lincoln sentenced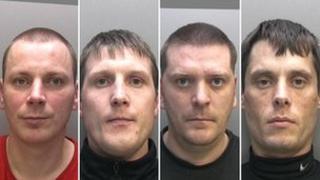 Six men have been sentenced after stealing lead from churches across three English counties.
The defendants targeted churches in Lincolnshire as well as Leicestershire and Nottinghamshire.
Police said the convictions and jail terms were the biggest success in the fight against British heritage crime.
The men, all from Lincoln, had earlier been convicted at the city's Crown court of a number of offences, including conspiracy to steal.
Vidas Andruska, 34, of Newland Street, was jailed for seven years after being convicted of the charge.
Andrius Cereska, 30, of Laceby Street, Tadas Andruska, 35, of Roman Pavement, and Andrius Kvedavas, 30, of Maple Street, were each jailed for four years, after pleading guilty to conspiracy to steal.
Nerijus Razmas, 33, of Manby Street, who pleaded guilty to theft and going equipped to steal, was sentenced to a total of 22 months.
Vitalijus Vilkys, 27, of Nelson Street pleaded guilty to handling stolen goods and received a six-month suspended sentence and 180 hours of unpaid work.
Passing sentence, Judge Michael Heath said the "professional, planned offending for financial gain" imposed a heavy burden on small communities.
"The thefts have caused serious financial consequences and the impact on these communities must not be underestimated," he said.
"[It is also about] the desecration of sacred places of divine worship. You lot couldn't care less about those feelings. All you cared about was making money."
He said the gang used force to cause damage to buildings with cultural and architectural importance, as well as being part of the heritage of the UK.