Britain's Best Street award: Lincoln traders ask if anyone knew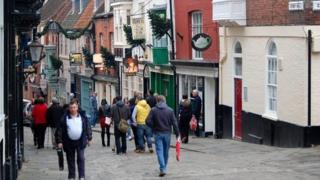 Traders on Lincoln's Steep Hill have questioned if anyone knew it held the title of Britain's Best Street.
Steep Hill beat streets in Glasgow and Edinburgh to win the Academy of Urbanism award last November.
The academy's annual award is given to streets which are good examples for planners and architects to "learn about place".
But Lincoln BIG, which promotes tourism and business in the city, said the award had raised Steep Hill's profile.
The Academy of Urbanism is an independent organisation, whose members are involved in all aspects of development.
The academy gives the awards in order to showcase the best examples of design, layout and streets, which can then be used as inspiration for new streets, towns and neighbourhoods.
Trader Richard Baxter from Goodies traditional sweet shop said: "The first month was probably pretty good, but we've had to tell visitors that we were the best street in Great Britain.
"The lack of advertising this year has let us down."
'Bundle of fivers'
Tasty Vintage owner Harriet Sullivan said none of her visitors had mentioned the award and probably did not know about it.
Allison Clarke, owner of Pimento Fashions and Tea Room, said: "I did hear from one person who saw it on a website and said they had come specifically to see the best street in Britain."
She added that she did not think most people outside Lincoln were aware of the accolade.
But Matt Corrigan from Lincoln BIG said the award had put Steep Hill on the map, despite there being no extra money to come with it.
"You don't get a bundle of fivers when you win - you just get a certificate," he said.
"We've had it on television, we've been on radio - we've had press articles, signs and events on the street.
"There's a new artists' market and a new vintage and retro market - there has been lots of things taking place."
'Fantastic place'
He added: "I think for me the telling thing is a year ago if you went on Trip Advisor for Lincoln you wouldn't have found mention of Steep Hill - now it's the number two attraction.
"It's a great accolade for the street and it's a fantastic place."
Liverpool's Hope Street has been named this year's winner after beating off competition from Exhibition Road in London and Chapel Street in Penzance.
The street sits at the heart of the city's Georgian quarter with various cultural institutions either on or near to the road, including the Philharmonic Hall, Everyman Theatre and the Unity Theatre.
Chief executive of the Liverpool Philharmonic Michael Eakin said he hoped the city could learn from Lincoln and get the "right message across".
He said: "We've been doing a lot to promote it as a very important part of Liverpool - not just for the people who live here, but for visitors as well."