Sister Mary Michael loses second bid for a giant cross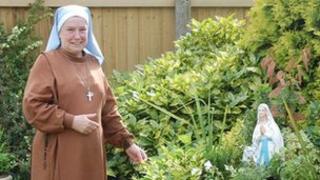 A Lincolnshire woman has failed in a second bid to erect a giant cross in her back garden.
Sister Mary Michael submitted plans to install a 5 metre high cross outside her bungalow in North Hykeham after her application for a 7 metre illuminated cross was rejected in July.
But neighbours had complained their cul-de-sac would be swamped with cars.
Sister Mary is no longer officially connected to a religious order, according to the Nottingham diocese.
Sister Mary, a self-styled nun, said she believed God wanted her to have the "Cross of Love" at her two-bedroom house in Malvern Close and had wanted to install the cross in order to hold meetings for worshippers.
The 68-year-old consulted with an engineer to reduce the height of the cross and dropped her plans to illuminate the structure after her initial plans were refused.
'Harmful visual impact'
Neighbour Pamela Lamming said: "Malvern Close is a small development with no through road and there is no spare parking available and thus these additional visitors will cause parking problems with its attendant health and safety issue."
Rejecting her revised application, North Kesteven District Council said the cross would be an "intrusive feature" and would have a "harmful visual impact".
A notice refusing planning permission said the development "would detract from the residential character and appearance of the immediate locality and have a harmful visual impact due to its prominence".
Sister Mary lived in an enclosed Carmelite convent in Cornwall for three-and-a-half years.
However in July, the Nottingham diocese said she no longer had an official connection with any order.
Sister Mary has 12 weeks to decide if she wants to appeal against the council's decision.