Lincoln Prison future still undecided after meeting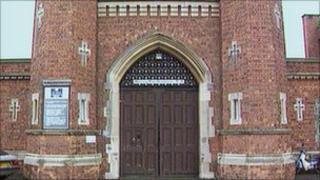 The future of Lincoln Prison hangs in the balance after a meeting to discuss plans to close it.
The Ministry of Justice announced plans earlier this month to turn HMP Lincoln into an immigration removal centre.
At a meeting on Tuesday, Lincoln MP Karl McCartney and leader of Lincolnshire County Council Martin Hill were part of a group which met Prisons Minister Jeremy Wright.
They spoke about opposition to the plans and why the prison should stay.
'Doesn't make sense'
After the meeting, Martin Hill said he was confident they had put a strong case forward for the prison to stay open.
He said: "I think some civil servants in London don't realise just how big Lincolnshire is and that if you close a facility like a prison it makes life much more difficult for everybody, not least those who are trying to deliver criminal justice. It doesn't make sense.
"We think we have done well to get all our major points across and reasons why we think the prison should stay and why an immigration removal centre in Lincoln is probably the worst place you could put it."
No decision was made at the meeting but Mr Hill said a decision could be expected by December.
Earlier this month Peter Wright, the new governor of Lincoln Prison, said he thought closure was "very unlikely" having recently had a lot of investment put into it and building still going on.
The Ministry of Justice said the Lincoln Prison estate was being "kept under review".
A spokesperson said: "The closure of HMP Wellingborough in the East Midlands will be completed in December this year. No decisions have yet been taken regarding the future of any other establishment."
A former women's prison, Moreton Hall in Lincolnshire, reopened as an immigration removal centre last year.
It houses detainees who are waiting to be shipped back to their country of birth after failing to get asylum, staying beyond the length of their visa, or committing a criminal act that means they will be deported.