Lincolnshire's flood clean-up operation begins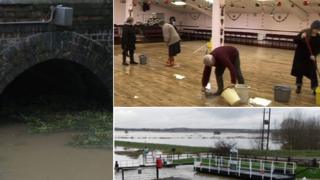 A clean-up operation is under way in parts of Lincolnshire after heavy rain and flooding hit the county.
The Environment Agency issued one flood warning for the village of Swaton, near Sleaford, with many more places on flood alert.
In Lincoln, fire crews helped clear water from a dance centre after drains overflowed.
Pedestrians in the Brayford Pool area, home to bars and restaurants, had to avoid large puddles of standing water.
'Complete devastation'
Swaton parish councillor Andy Dunlop said: "We've had four floods this year, the worst in July, and three this month - which is unheard of".
Mr Dunlop said heavy rain, the rapid growth of vegetation caused by the wet summer and an old Victorian bridge, where water backed up, were the main causes.
At Lincoln's Dancentre, which is based at the city's football club, owner Lois Baker said: "I came down and there was water everywhere - it was complete devastation."
Fire crews said the water had come up through the drains and flooded the dance floor.
Cyclist Richard Sanderson, who was trying to get from Woodhall Spa to Lincoln on Monday, said: "I could only get as far as Short Ferry before the cycle path became impassable."
Martin Hill, leader of Lincolnshire County Council, said: "Where there is flooding - where there are persistent issues, we will look at the causes and see how we can rectify the causes."