Swaton residents hit by floods four times in a year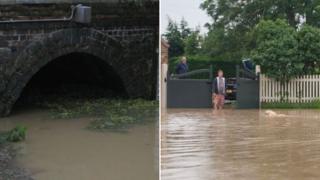 Flooding has struck a village in Lincolnshire for a fourth time this year.
The Environment Agency (EA) issued a warning for Swaton, south of Sleaford, over the weekend.
Parish councillor Andy Dunlop said: "We've had four floods this year, the worst in July, and three this month - which is unheard of".
He added: "We've been grumbling away about the flooding potential in Swaton for about 20 years".
Mr Dunlop said heavy rain and the rapid growth of vegetation, caused by the wet summer, and an old Victorian bridge were the main causes.
He said: "One of the major issues is the bridge, which was given a life-expectancy of five years in 1982.
"It's still there - but only just.
"It tends to cause a back-log up into the village and the water then tries to flow around it, which is what floods the village."
A multi-agency report into measures to prevent flooding in the village is expected in January.