Grantham policing project not working, say door staff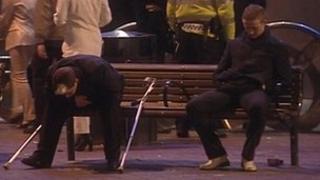 Security staff in a Lincolnshire town centre say a project to have a reduced police presence on Friday and Saturday nights is not working.
In August, Lincolnshire Police started a scheme to spread police officers more widely around Grantham, rather than just the town centre.
The force wanted pubs and clubs to do more to prevent crime.
But despite police figures showing violent crime has dropped by 30%, door staff said they felt under pressure.
Mick Hall, a Grantham doorman who has worked in the industry for 25 years, said: "I see people fighting and falling out in the street.
'Frightening' times
"I'd say street crime is rising and there are just no police available.
"We're dealing with violence on the street, not just in the venue. It becomes frightening if you're dealing with 10 or 12 lads fighting, you've got no spray, no Tasers nothing, just you at the end of the day.
"If you want door staff to take on more responsibility, we need to be on the same side as the police, they only way forward is to work as a team," said Mr Hall.
Ch Insp Mark Housley, from Lincolnshire Police, said he felt the scheme had been "progressing very nicely".
He said: "We've not withdrawn policing from any of these places. What we're saying is we don't accept the culture that's been developed over the years.
"I'm having a mixed reception. Clearly some [bar owners] are very positive and welcome the professionalisation of the night-time economy.
"They recognise what we're doing is changing the culture from a rowdy, obnoxious clientele to a more professional clientele that enjoys things like restaurants, the theatre and cinema as opposed to walking along the street drunk as a lord being obnoxious and abusive."