Boston Assembly Rooms deal 'still on' despite lengthy delay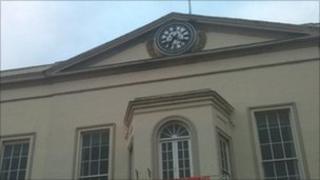 Boston Borough Council has made assurances the Assembly Rooms will be sold despite a lengthy legal delay.
The new owners were due to be unveiled last Friday but shopkeepers on the building's ground floor remain in the dark over who their landlord will be.
Mike Gilbert, portfolio holder with responsibility for the sale, denied the deal had collapsed, putting the delay down to legal complications.
Commercial sensitivities mean it cannot say who the buyer is, he said.
The authority put the 19th Century building up for sale last year when it said it could no longer afford the upkeep.
On Friday the building and the associated public toilets were shut.
The council has not disclosed the amount it will receive nor who the new owner will be.
Mr Gilbert, portfolio holder for housing, property and communities, said: "I am confident it will go ahead. There is absolutely nothing to suggest anything else. Nothing has been said to me as the portfolio holder.
"I shall be very, very surprised and extremely upset if that hasn't been communicated to me."
Guide price £445,000
He said the council and new owner had exchanged contracts but there were still "legal and technical aspects" to complete.
The situation has left shop owners on the ground floor of the Grade II listed building infuriated.
Florist Maxine Hill, who has run Lovelaces for 12 years, said: "I don't understand how they are getting away with it, what's the big secret?"
She said the retailers were asked to sign a contract agreeing to change their tenancy but without knowing who the landlord was and they have put off signing the document until the deal is complete.
Although the council has refused to reveal how much money it will receive, estate agents Brown and Co had a guide price of £445,000.
According to the website the building is "under offer".