Lincoln Prison could become immigration removal centre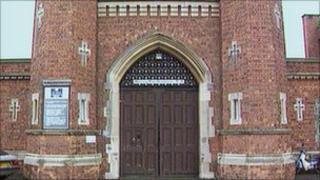 The new governor of Lincoln Prison has confirmed it could be converted into an immigration removal centre.
Peter Wright said the Ministry of Justice (MoJ) was reviewing the future of the category B prison but said it was "very unlikely" it would close.
However, he warned keeping HMP Lincoln open in its current form could involve job cuts.
He added a decision on the prison's future could be made by the MoJ as soon as next month.
Mr Wright, who took up his post six weeks ago, said the fact there was a surplus of prison capacity in the East Midlands would inevitably play a part in considerations.
'Very good job'
"I think it's very unlikely the prison will close. It's just had quite a lot of investment in it and building is still going on," he said.
"I think the main choices are between the prison remaining as it is and its conversion into an immigration removal centre.
"My preference would be for it to remain a local prison but if it has to convert into an immigration removal centre, I'm sure we will do a very good job."
Martin Hill, leader of Lincolnshire County Council, said the county already had one such centre, Morton Hall, near Lincoln, and there was no need for another one.
Lincolnshire law firm Sills and Betteridge has also launched a campaign to keep the prison open, saying converting it could lead to delays in the area's criminal justice system.
The MoJ said: "The prison estate must meet the needs of the prison population and provide best value for money for the taxpayer. The whole estate is kept under review to ensure that these objectives are being delivered.
"The closure of HMP Wellingborough in the East Midlands will be completed in December this year. No decisions have yet been taken regarding the future of any other establishment."