Boston Borough Council defend chief executive's salary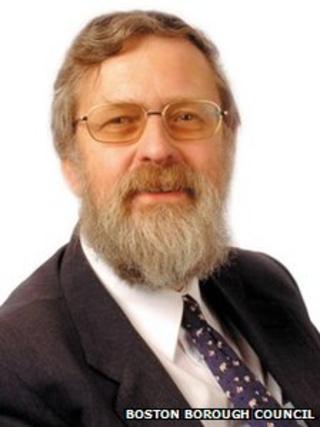 A Lincolnshire council has defended the £675 a day salary for its chief executive.
The Conservative leader of Boston Borough Council said Richard Harbord, who has had his contract extended until 2015, was worth every penny.
Mr Harbord works 15 days a month for about £121,000 a year, but all his expenses are funded from the daily fee.
The Labour leader of the council questioned whether it provided value for money.
Mr Harbord was brought in to help the troubled authority in 2009, and his contract was due to run out in May 2013.
'Budgets are thin'
Councillors voted to extend it at a meeting on Monday, for two more years.
Councillor Paul Kenny, leader of the Labour opposition, said: "Are we Manchester United or Boston Borough Council? Obviously everyone wants the best but can you afford the best? I'd like a Rolls Royce but I can only afford a Mini.
"We are under negotiations to cut the pay and conditions of our staff, 15% of our staff are on the minimum wage, and then we talk about renewing the contract of the chief executive."
Peter Bedford, Conservative leader of the council, said Mr Harbord had transformed the authority.
"If you want the best you have to pay for it," he said. "The programme he has delivered here, which is keeping us on track with the budget cuts without having to reduce staff, is a very important issue.
"He's got staff morale high which two years ago it wasn't."
At the same meeting councillors voted for a 20% increase in allowances for members with special responsibilities.
Defending the increases, the authority said they were the lowest in Lincolnshire and among the lowest in the country.
However, independent councillor Richard Leggott said the timing of the plans was crass.
He said: "We are asking people to be mindful that budgets are thin, and then for them to see the councillors waiving through a large increase over two years, for certain members, I don't think that's right."