Cameras to combat 'lollipop rage' near Lincoln school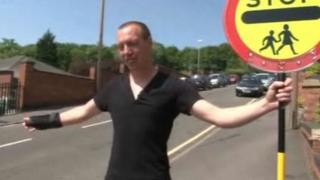 Two lollipop men outside a Lincoln school are to start wearing cameras to combat "lollipop rage".
One of the men was hit by two cars in five months and there have been several near-misses where they have had to jump out of the path of passing cars.
Staff and parents at Monks Abbey Primary School said children could be hurt unless action was taken.
David Ellis, whose hand was broken when he was hit by a car in May, will test the first camera from Monday.
It is the first time cameras have been used by school crossing patrols in Lincolnshire.
John Siddle, from Lincolnshire Road Safety Partnership, said: "We are trialling these cameras to combat lollipop rage.
"We are doing this for the protection of the children and the school crossing patrols, in an area that can be very dangerous.
"We want to make sure that we prevent a child getting hurt in future."
There are two crossings near the school, one on Monks Road and another on Milman Road.
Ripped from hand
Mr Ellis, who mans the crossing on Milman Road, was hit by the first car in May.
The lollipop was ripped from his hand - which was fractured it in two places - and thrown into nearby trees. The car failed to stop.
In September, he was struck from behind by a car while he tried to help a group of pupils cross the road. Neither drivers have been traced.
Mr Ellis will wear the camera strapped to his chest throughout his shifts, and it will record footage which can be used as evidence in court.
Signs have been put up to warn drivers about the recording equipment.
Mr Siddle said: "We are hoping the measures we are taking in using the video equipment will never have to be used in court.
"However, we are fully prepared that, should any driver endanger either the school crossing patrols or children, we will take all measures necessary to place that person before the courts."