Former TV news man Alan Hardwick elected as Lincolnshire's PCC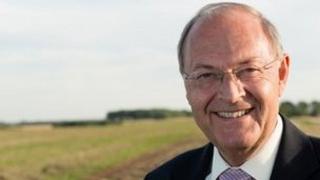 Independent candidate Alan Hardwick has been chosen as Lincolnshire's first police and crime commissioner (PCC).
He beat David Bowles, of the Campaign to Stop Politicians Running Policing, after counting went to second preference votes.
The other candidates were Tory Richard Davies and Labour's Paul Gleeson.
Mr Hardwick, who presented news programme Calendar on Yorkshire Television, will set priorities for the force and oversee its budget.
He said: "I'm particularly thrilled that the people of Lincolnshire have been able to send a message to the government that they don't think this role should be politicised.
"I'm an independent and I don't have any political masters.
Priority funding
"My only concern is for the welfare, the safety and security of the people of Lincolnshire and nothing will get in the way of that," he said.
Mr Hardwick, who has spent the last four years working for the Lincolnshire Police Authority, said his first job was to meet with Chief Constable Neil Rhodes.
His priorities include putting pressure on the government to reinstate the rural policing grant in the county, which he said was worth £1.8m per year, or 42 police officers.
"It's about time we started to redress the balance," he said.
"I'm confident that I can use this new role to persuade the government to look at Lincolnshire's case again.
"This has become personal now," he added.
Mr Hardwick said he also planned to tackle anti-social behaviour and focus on rural and local crime.
Lincolnshire Police employs about 1,200 officers and has an additional 430 police staff. It is one of the lowest funded forces in the country.